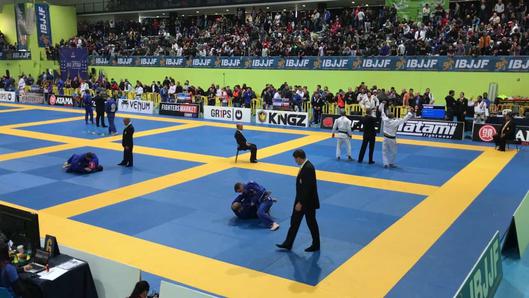 Looking to take part in an upcoming BJJ competition? We can help you prepare!
Our competition class is a weekly two-hour training session specifically designed for those who want to compete. We had 17 students join us the first time we went as team abroad to the Milan Fall Challenge in November 2019!
Black Belt Professor Thomas and his brother David have years of competition experience under their respective belts. In these competition focused classes at Avant Garde, we'll explain the BJJ scoring system in detail with live examples, we'll delve into how you can build your own game that suits your weight class and physical attributes and of course, exactly what you should expect from your first or subsequent competitions!
Class structure
A typical competition class will start with a high intensity warm up, followed by approximately 30 minutes of technical drilling. The rest of the class is dedicated to sparring (from stand up) and also answering any questions you have or mitigating any unknowns in your game plan.
You should expect to feel the burn during this class. We intend it to be a gruesome 2-hour workout that is sure to leave you fatigued but better prepared for the upcoming competition as a result.
These sessions are not just about your energy output, we always want to build your confidence so when you step out onto the mats for the real thing, you have a podium position in mind and the self-belief to go out and achieve that highly sought after 'Double Gold'.
The optimal way to further your BJJ game in the shortest amount of time
We would like to add that it really is the student's choice whether they want to compete, and it's by no means mandatory. That said, we definitely encourage you participate in competitions because they are indisputably the number one method of 'fast tracking' your BJJ learning.
Competitions will force you to put everything you've learned out there in order to succeed. It's for this reason that they are always very eye-opening experiences. There's a post-competition sensation that many students will feel, and that is the feeling of connecting the dots, whether technical or theoretical in your overall understanding of BJJ.
We do not deny that it's a major goal of our academy to create competition winners at Avant Garde. We really want you to do both yourself and Avant Garde proud every single time you fight. When you compete, you're not representing just yourself, but also your training partners and your academy as a whole. That's why preparation is so important and why we will do everything in our power to help you gain a competitive edge, through effective training.
That said, sometimes things don't go your way on the day and well, there's a famous saying in Brazilian Jiu Jitsu, "you either win or you learn!"
Really, just by taking the leap of faith and signing up, you're already ahead of the curve. Competitions are so much fun and are a deeply rewarding and enriching experience. You have nothing to lose, but so much to gain!
Join our competition class, get in the best shape of your life and prepare yourself for victory
If competitions are your thing, or you're ready to try it out for the first time, make sure to follow our internal announcements on our private Facebook group or WhatsApp. We will update students whenever there is an upcoming competition that the team should consider joining. We run internal polls to see if the dates make sense for students because we always aim to travel together and participate as a large and collective team, as this guarantees support and coaching is available for everyone's matches on the day.
Also, when we get to compete abroad, it's extremely fun to check out new cities and places with our BJJ teammates and friends. We'll always try and celebrate after a competition is finished, just remember not to miss the flight back home!
Frequently Asked Questions
? I'm competing soon, is this class for me?

As the class name implies, yes! Come to our weekly competition sessions to get fully prepared for your upcoming matches. These are grueling two-hour sessions which are designed to get you competition focused and ready to tackle any challenges ahead.

? How does the BJJ scoring system work?

Good question. For beginners of this sport, it can be fairly tricky to get your head around the scoring system. Luckily, our coaches and many of the students at Arete are seasoned international competitors. Aside from teaching techniques and strategies, we'll also go through the scoring system in detail during these classes.

❓ What should I expect at my first competition?

Firstly, congratulations for taking the leap of faith and signing up to a competition. We're proud of you! In the Competition Classes at Avant-Garde, we'll take you through everything you should know and should expect to see on the day when you compete. Any questions you have, here's your opportunity to ask them. Our team are here to help you every step of the way. Since we like to compete as a team too, you'll have your friends beside you on the day to offer coaching and advice.

No, it's your decision. We do encourage it though, as it's the BEST way to learn.

We recommend people to compete at least once in white belt to get a feel of it 

In BJJ we say, 'You either win, or you learn!' Therefore, you really having nothing to lose, but so much to gain.

⚖️ Are there weight brackets in BJJ competitions?

Yes, there are several weight brackets. When signing up for a competition, you'll be asked to select the group for your weight. 

? Are competitions Gi or No Gi?

Depends on the competition. If it's a big one, usually you'll do both as separate tournaments. If you win both your Gi and No Gi bracket, it's known as achieving 'Double Gold' for this reason.