Take your Brazilian Jiu Jitsu training to the next level
For students who have at least six months of experience under their belt, we recommend you participate in our Gi Advanced classes. These classes aren't meant to replace Fundamentals, rather, it's in these classes that you're going to have the opportunity to learn a series of high level techniques and competition skills that will allow you to level up your game entirely.
Our Gi Advanced classes typically have slightly less students than Fundamentals, but the overall skill level is much higher. The structure of the classes is relatively similar, however.
A more demanding warm up
As with all our classes, we start Gi Advanced with a warm up! Students with six months of BJJ experience will already have a strong stamina and with this in mind, we try and test your limits a little bit to get the best out of your overall performance.
The Gi Advanced warm up might include more sets than Fundamentals, more strength training exercises or simply higher intensity BJJ specific movements. Our philosophy to teaching is that we are trying to raise confident BJJ fighters at this academy, so it definitely helps if you work out a little bit. BJJ is a technique driven sport, famously referred to as 'Human Chess' but it would be disingenuous to say fitness and strength doesn't help at all, especially at the highest competitive levels.
Techniques which will make you think!
After you're completely warmed up, we move to technique demonstration just like in Fundamentals. To keep continuity and to reinforce your progressive learning, we still focus week by week on specific BJJ areas.
The difference here in Gi Advanced is that we try not to waste precious time going through the absolute basics which students will already have a good grasp of. Instead, we try and maximise the time we have together by delving into technique variations which are specific to the Gi and specific to student game types (guard playing / top passing / submission attacking) for example.
This is not to say that all techniques are crazy advanced in these classes. We still focus on simple, effective submissions and sweeps however we will often give a larger range of variations for them, including novel and interesting set ups which will make your skills and BJJ mindset a little more holistic.
Professor Thomas has trained at some of the best academies in the world, practicing with and competing against international talents. Therefore, the structure of our advanced classes is based on his extensive experience of what really works, and what gets the best results for the student.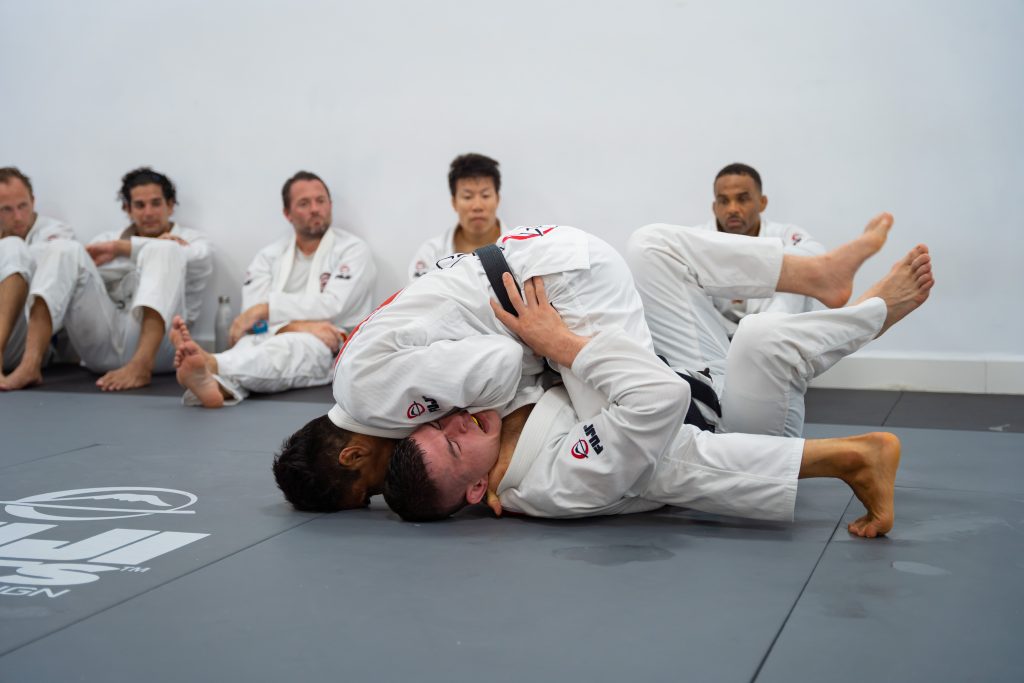 Sparring time
In Gi Advanced, we want students to have ample opportunity to put their skills into action. We try and dedicate 30 to 45 minutes to rolling. This ensures you'll be able to roll against all kinds of opponents, and you'll begin to learn the intricacies of your partner's strategies which makes rolling even more interesting.
Can't get enough? Learn at home too!
Did you know that we have invested in our digital infrastructure to enhance the learning experience for all academy members at Avant Garde? For all the exciting moves we cover in class, you can load up multi-angle videos from the comfort of your own home to go back over them. With full voice over narration and 300+ techniques of premium HD content, you'll be learning wherever you are.
Guest Black Belt teachers and Competition Class
Being the largest academy on the island, we attract some of the best BJJ talents that arrive in the Maltese Islands. It's really not uncommon to have visiting Black Belts at Avant Garde, and they are usually more than happy to part their wisdom to Avant Garde students during their stay. Check out our Black Belt visitors web page to see some of the talents who have stopped by.
For up to date information on class times, you can visit our training schedule page. If you're on top of your BJJ game and you're ready to compete either locally (which is rarely a possibility), or abroad, why don't you come and join our Competition Class?
Frequently Asked Questions
✔️ Who are the Gi Advanced classes for?

These classes are for students with at least six months of Brazilian Jiu Jitsu experience. We cover the basics but we also delve into some pretty advanced stuff! If you don't have that much experience, check out our Fundamentals classes instead.

As the name of this class implies, of course!

? Do we get to practice live sparring?

Most definitely. You can roll to your heart's content! We try and allocate up to 45 minutes for sparring practice. If the mats are super busy, we'll start from grounded; if there's less students, feel free to practice from standing.

? When are Gi Advanced classes held?

? Where can I find this academy?

No 4 Triq Gerolamo Gianni San Ġwann, SGN 3500